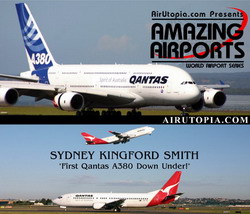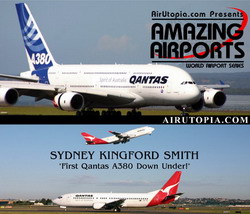 Sydney Kingsford Smith First Qantas A380 Down Under
-Exclusive: First Arrival / Takeoff of Qantas A380! -Great Airliner variety of the Southern HemisphereAustralia's #1 Gateway welcomes the QANTAS Super Jumbo A380 in this program! The world's first
รายละเอียดสินค้า Sydney Kingsford Smith First Qantas A380 Down Under
-Exclusive: First Arrival / Takeoff of Qantas A380!
-Great Airliner variety of the Southern Hemisphere
Australia's #1 Gateway welcomes the QANTAS Super Jumbo A380 in this program!
The world's first SuperJumbo comes to Sydney for the very first time. The first arrival and departure of this mega double-decker airplane comes to Sydney! World famous Sydney hosts 8th largest airline QANTAS... see the entire fleet in action along with not seen elsewhere airliners from the southern hemisphere like Air Niugini, Air Caledonie, Hawaiian, Air Nauru, Virgin Blue, and beautiful electrifying Air Pacific of Fiji!
Come see why Sydney is one of the most photogenic airports in the world!!